Our Mission
To provide transportation management solutions that deliver the highest levels of quality and satisfaction to our consumers and partners, while offering exceptional value, performance, and responsiveness to our contracting agencies.
Our Vision
To be the leader in transportation management through the integration of specialized information technologies, innovative business practices, and a consistent emphasis on quality and consumer satisfaction.
Our Story
The origins of Verida begins with our CEO, Steve Adams, who began his career in 1974 as an Emergency Medical Technician with the local ambulance company in his hometown of Carrollton, Georgia. Just two years later, Steve purchased the company and formed West Georgia Ambulance Service, Inc., which expanded over the next 20 years becoming one of the southeast's largest minority-owned ambulance services. READ MORE

Here are just a few of our outstanding qualities.
INNOVATIVE TECHNOLOGY
Net InSight, our proprietary transportation management platform, is the key component of our end-to-end service delivery model. This state-of-the-art mobile automated trip-tracking and verification application, improves transportation management and service. It accurately documents and transmits pick-up and drop-off times, as well as geo-coded locations, to Verida for each leg of a trip. Real-time trip data is captured on tablets and smartphones, transmitted to our team, and used to verify that NEMT recipients are being transported on time, to and from medical appointments. Built-in security within the NEMT system also assists in the detection of fraud, waste, and abuse.
Technology should make life easier, which is why we offer free mobile software and technology devices to contracted transportation providers. This technology allows Verida dispatchers and providers to locate drivers at any point to determine estimated time of arrival (ETA) or identify the closest vehicle in the case of an urgent trip.
FORWARD THINKING
With decades of experience, Verida challenges industry norms to create more efficient transportation management solutions. Continuous improvements to the member experience is at the core of what drives us to innovate. Here are some of the ways we lead the industry in streamlining NEMT service delivery:
Client Portal
Our Client Portal gives unprecedented online access into program information on both an individual-member basis and in aggregate. Clients can see the same real-time data that our team sees through our NEMT Net InSight platform.
Call Center Technology
We use a sophisticated call management system that allows us to engage with members, transportation providers, and facility personnel through secure communication channels at any work location. It is built upon cloud infrastructure, so calls can be managed no matter where customer service representatives are located.
Artificial Intelligence Tools
Every call made and received in our call centers is not only recorded but analyzed using powerful AI tools. Employing speech and natural language technologies, the tool supports our call center managers and supervisors by performing deep analysis of calls, helping managers get to the root cause of customer service issues quickly so that coaching can be initiated.
Member App
Our Member App functions with any smartphone and mirrors the functionality of our Member Portal. Our app empowers members to manage their own transportation including the ability to easily schedule transportation with several clicks on their iPhone or Android device, as well as view, modify and cancel existing reservations, view trip history and submit satisfaction surveys.
Member Care Program
Because drivers may spend more time with a member than their health care provider, we designed the Member Care Program. Using this mobile technology solution, NEMT drivers can report concerns they might identify during the course of their interactions with the member such as loss of utilities or lack of food, neglect, abuse, or other issues the driver observes. All notifications are sent to the appropriate contacts for further intervention.
MEMBER FOCUSED
The key to our success over the past two decades is our service delivery model focused on the member and their health, while balancing fiscal responsibility. To demonstrate our commitment to member satisfaction, we have a Quality Assurance Plan designed to provide an overall framework for implementing quality focused initiatives, and to safeguard that Verida and our contracted NEMT providers deliver the highest quality service possible to Medicaid members. Our Quality Assurance Department is responsible for the complaint management and resolution process. We monitor service quality through surveys and statistical reports and develop quality improvement initiatives.
Verida has earned a stellar reputation as an expert provider of transportation management services. Our proven methodology and focus on providing quality in each component of service delivery has enabled us to achieve URAC's Certification of Organizational Management accreditation for our entire enterprise.
CUSTOMER SUPPORT
Verida's customer service representatives (CSRs) serve as the primary point of contact for program stakeholders. These knowledgable and qualified representatives understand the specific requirements of the NEMT programs we manage. They are trained to interact with callers in a courteous and efficient manner, while being sensitive to their cultural backgrounds.
Verification of NEMT eligibility, reservation scheduling, appropriateness of transportation modes, and medical necessity rules are applied with practicality and compassion. CSRs also receive HIPAA training and learn the importance of respecting each caller's right to privacy. In addition, other call center staff members, from managers to administrative support staff, receive cross-training on call center functions, including using our NEMT transportation management system, Net InSight.
Our Accreditations and Certifications

URAC ACCREDITED
Since 2011, Verida has been accredited by URAC, a health care accrediting organization that establishes national quality standards for the health care industry. To further our commitment to the delivery of quality service, Verida has a Quality Management Committee comprised of executives, department managers, and front-line personnel who oversee quality assurance initiatives and quality improvement activities.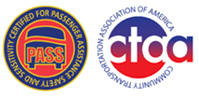 PASS
Verida is a Passenger Assistance Safety and Sensitivity (PASS) Certified company. PASS training is part of the core curriculum from the Community Transportation Association of America (CTAA) and provides community transportation drivers with proficiency in passenger assistance techniques and sensitivity skills appropriate for serving persons with special needs. The PASS program is designed as a three-day train-the-trainer course that certifies trainers to then train drivers. The program also includes a two-day driver certification program in which CTAA instructors train drivers.

GEORGIA HEALTH CARE ASSOCIATION
Verida is a member of the Georgia Health Care Association (GHCA). The GHCA along with the Georgia Center for Assisted Living (GCAL) are committed to continuously improve the quality of life of all persons requiring post-acute care and long term health care. The GHCA/GCAL have represented long-term care providers in the state for over 60 years and currently serve skilled nursing centers, assisted living communities, and Georgia SOURCE agencies. Through quality advancement initiatives, lobbying efforts, informative educational seminars and operational support, GHCA/GCAL continues to meet their members' needs and the best interests of the long-term care profession.